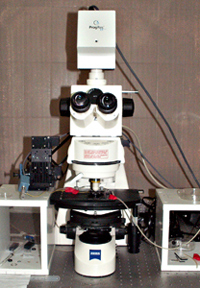 Description
The A.G. Leventis Electrophysiology Unit was founded in 2007 with the generous support of the A.G. Leventis Foundation. The Unit contains a single ring and all the necessary equipment for the use of the patch clamp technique, which allows the study of single or multiple ion channels in cells . Specifically, the patch clamp technique enables researchers to study the activity of single cells by measuring, in real time with high spatial and temporal resolution, membrane signals such as voltage and ion current fluctuations. These recordings can be performed in the presence or absence of a specific stimulus, thus allowing the quantitative analysis of cellular information processing.
Equipment
The Unit is equipped with 1 Vibration isolation table, 1 upright microscope with florescent and DIC capabilities and water-immersion lenses, 1 amplifier for patch clamp and extracellular recordings, 1 stimulator, 2 electrode manipulators, 1 waterbath, 1 vibratome, 1 electrode puller, 1 osmometer, 1 analog-to-digital board and a state-of-the-art computer system (hardware plus software) for the data acquisition and analysis.
Services
The facility can be used for intra- as well as extra-cellular recordings from brain slices, neuronal cultures or other types of cell cultures.
Personnel
Contact person
Links
Link for the technique
Note: This is the first and only facility in Greece that allows the use of the patch clamp technique. A second facility will be set up at the Academy of Athens (by Irene Skaliora) soon.
Electrode attached on a cultured neuron

Measured EPSP from the patched neuron