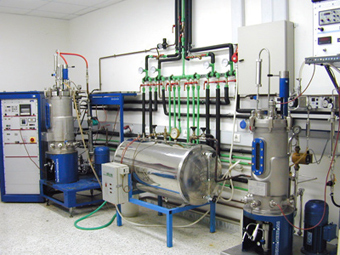 Description
IMBB maintains a Fermentation Facility (FF) that focuses on controlled production of biomass (mainly microbial) over a wide range of controlled conditions (temperature, pH, aeration, stirring, etc). The Fermentation Facility was established in 1988 by V. Bouriotis and houses all equipment needed for the maintenance, growth, collection and storage of microorganisms (bacteria, fungi, etc). Cell mass is produced according to strict quality criteria ( ISO90001¨2000 from TUV HELLAS ) and is accompanied from a Specifications and Technical data sheet that includes all relevant information on growth conditions. The facility complies with all the EU regulations regarding biohazard material handling and disposal. Most of the consumables used in bacterial cell cultures are disposable and the non-disposable ones are autoclaved regularly. The liquid waste are collected in vessels containing chlorine and disposed in two special sinks.
The facility provides fermentation service for:
1. The production of Restriction Enzymes, DNA/RNA Modifying Enzymes and Molecular Biology Reagents that are commercialized by Minotech biotechnology who is the main user of the facility.
2. Growth of cells for IMBB researchers for use in crystallography, membrane preparation and recombinant protein production
3. Growth of cells for the wider scientific/academic community of Crete (and Greece ).
The FF is located on the ground floor of the IMBB building (Rooms A031, A033, A034, A035).
Equipment
EQUIPMENT

COMPANY

ROOM

IMAGE

Person Responsible

Laminar Flow Hood

Bioblock Scientific

A033

D. Dialektakis

Fermentor 50 liters
(35 liters working capacity)
Bioengineering AG

A035

D. Dialektakis

Fermentor 30 liters
(20 liters working capacity)
Bioengineering AG

A035

D. Dialektakis

pH Meter

Janke & Kunkel

A035

D. Dialektakis

Ultra Low Temperature Freezer Jouan

Thermo Scientific

A034

D. Dialektakis

2 Incubators
Memmert

A034

D. Dialektakis

Sonicator
Branson Sonifier

A034

C. Giata
C. Vamvakia
CEPAR Laboratory Centrifuge GLE continuous flow centrifuge
Carl Padberg Zentrifugenbau GmbH

A034

D. Dialektakis

French Press Cell Press
SLM AMINCO

A031

C. Giata
C. Vamvakia
Controled environment Incubator Shaker
New Brunswick Scientific

A031

D. Dialektakis
Services
Services that we can provide include:
Growth of microbial cultures from 20 ml to 50 liters with typically short lead times (1 to 3 weeks from the placement of orders).
Shipment of cell paste. Cells can be shipped frozen all together or in small aliquots allowing you to use the material as you need it.
Technical advice for production of bacterial cells (including thermophiles, psychrophiles) or fungi cells and their products.
Frozen stocks of bacterial paste.
Preparation of Culture Media.
Maintenance of bacterial strains or other microorganisms.
Harvesting of cultures.
Pricing
Upon Request
Personnel
| | |
| --- | --- |
| Name | Chrysoula Vamvakia |
| Telephone number | +30-2810-391180 |
| Fax Number | +30-2810-391186 |
| Email address | Αυτή η διεύθυνση ηλεκτρονικού ταχυδρομείου προστατεύεται από τους αυτοματισμούς αποστολέων ανεπιθύμητων μηνυμάτων. Χρειάζεται να ενεργοποιήσετε τη JavaScript για να μπορέσετε να τη δείτε. |
| Room Number | A071 |

Contact person
Guidelines for Facility Equipment Usage
Links
MINOTECH
ATCC
TUV HELLAS