Malaria is a disease having a huge impact on human health and economic development. It is primarily a disease of less developed countries in Africa and South East Asia. However, malaria is also a threat to European countries, as witnessed by the recent limited outbreaks in Greece. Malaria can be controlled by drugs targeting the parasite in the human host and insecticides to limit the exposure to the mosquito. No vaccine is available.
Malaria is caused by unicellular protozoan parasites of the genus Plasmodium, which are transmitted by anopheline mosquitoes. It is recognized that in order to eliminate or even eradicate the disease, methods to block transmission through the mosquito are a crucial prerequisite. However, the development of such methods is hampered by the fact that these parasite stages are not well understood.
The research in our laboratory centers on understanding the early stages of the parasite within the mosquito. When the mosquitoes take an infected blood meal a series of complex developmental processes are initiated in the parasites as they enter the new host. While these have been described on the cellular level, the molecular characterization is still in its initial phase. We use reverse genetics in combination with cell and molecular biology to investigate these processes. Our laboratory has pioneered the study of the very first events taking place in the mosquito midgut, which is the escape of the gametocytes from the host cell, an essential step for establishing the parasite in the mosquito. We have also made important contributions to the characterization of the motile zygote, called the ookinete.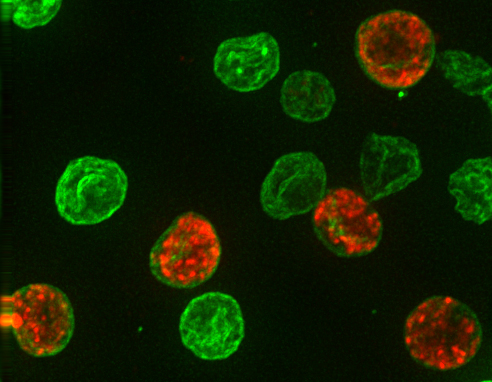 Plasmodium gametocytes (red) residing inside red blood cells (green) surrounded by non-infected red blood cells (green)