Walter Jakob Gehring

10/03/1939 - 19/05/2014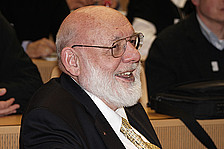 It is with deep sorrow that the IMBB announces the passing of the great geneticist Walter Gehring that occurred on May 29, 2014 following a car accident. The deceased was a professor at the Biozentrum of the University of Basel since 1972, and he was one of the leading scientists worldwide researching the genetics of development. For many years Walter Gehring acted as a member of the IMBB's international Scientific Advisory Council, having directly helped the research of several IMBB members as well as the growth of the Institute.

We refer you to Walter Gehring's obituary at the Biozentrum's home page for a description of his career as well as his contribution to global science.

The thoughts of everyone at the IMBB go out to his family and we should take a minute to remember him.