About IMBB
Welcome to the web site of the Institute of Molecular Biology and Biotechnology of the Foundation for Research and Technology Hellas (IMBB-FORTH). IMBB is one of the most prominent life science research institutions in Greece, with an outstanding record of scientific achievements, state of the art infrastructure and a broad range of research, innovation and educational activities. IMBB's main mission is to pursue cutting-edge research and promote scientific excellence.
Highlights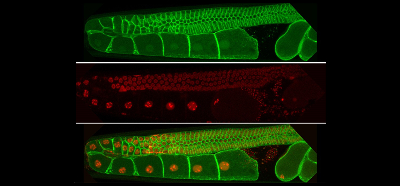 Mitochondrial maturation drives germline stem cell differentiation in Caenorhabditis elegans
IMBB Researchers uncover a link between mitochondrial maturation and germ cell differentiation.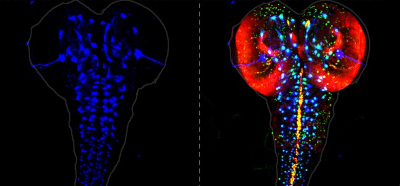 The Role of Insulators in Transgene Transvection in Drosophila
IMBB Researchers identify a novel function of insulators in transcription regulation.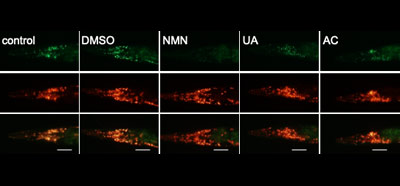 Mitophagy inhibits amyloid-β and tau pathology and reverses cognitive deficits in models of Alzheimer's disease
Collaboration between researchers at NIH-USA, University of Oslo and IMBB-FORTH revealed the critical role of impaired mitophagy in Altzheimer's Disease pathogenesis.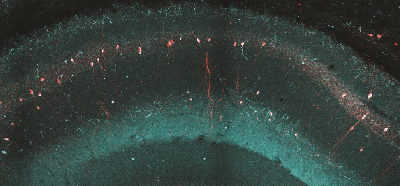 In a collaborative work IMBB and Columbia University researchers revealed how VIP interneurons in the hippocampus regulate spatial learning
By combining experiments with models, this study is the first to show that VIP cells underlie the ability of mice to learn the spatial location of a reward.
News
July 8-12 2019
The 2019 Onassis Foundation Lecture Series in Biology and Chemistry is on the topic of Genome Editing. [Press Release] [Program]
June 13. 2019
Honoring his lifetime achievements in neurobiology and biology of aging, IMBB Researcher Nektarios Tavernarakis has been elected Member of Academy of Athens. [Press Release] [More]
June 11. 2019
Recognizing his scientific excellence in conducting frontier research, IMBB Researcher George Garinis has been elected EMBO Member. [Press Release] [More]
May 27. 2019
The Dept. of Biology in collaboration with IMBB organizes the 6th FELASA-accredited International Course on Care and use of laboratory animals. [More]
May 20. 2019
The Governing Board of FORTH approved the election of Dr. Manolis Froudarakis as Researcher C of IMBB.
Events
July 22nd 2019 @ 12:00
"
Chemical and mechanical interrogation of biological systems…and beyond
"
[ "Seminar Room 1", FORTH's bldg ]
July 26th 2019 @ 12:00
"
Extracellular vesicles and RNAs: from functional biomarkers to therapeutic targets
"
[ "Seminar Room 1", FORTH's bldg ]