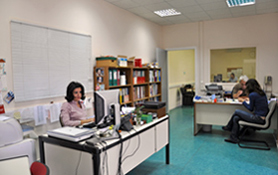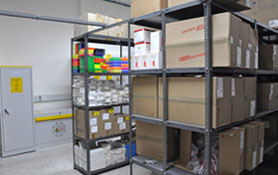 Description
The IMBB Purchasing & Stockroom facility supports research activity at IMBB-FORTH as well as the research labs that belong to IMBB but are located in the greater area of the University of Crete. We maintain a steady inventory of research supplies ranging from laboratory glassware to commonly used chemical reagents. Our staff is also on hand to help fulfill departmental purchasing needs, and to coordinate shipping and receiving.
Purchasing Procedures
Items not available in the stockroom may be obtained by placing an order. To request access, your PI should send an email to the business office requesting stockroom access. Items purchased for use in the IMBB must be processed by the stockroom.
Any items purchased from the stockroom (unused glassware, apparatus, or unopened chemicals) can be returned for credit during the same week of date of purchase. Responsibility for producing the proof of purchase rests with the research groups and not with the stockroom personnel. The stockroom retains ultimate jurisdiction as to whether or not an item or items should be returned.
The stockroom maintains a reasonably up-to-date library of vendor catalogs. These are to be used to find suitable sources for supplies and chemicals and for determining catalog numbers for orders. The listing of products and services, including company names, addresses and phone numbers, is also available, as well as, a Chemical Source Book. Please return the catalogs to the shelves after use.
Stockroom Policies
Stockroom Inventory
The Stockroom Catalog lists all items kept in stock. Stockroom attendants should be notified if shelf stock is depleted; material will be obtained as quickly as possible by placing a telephone order to the vendor.
Shipping and Receiving
The stockroom maintains a receiving area for all incoming materials. Notice of the arrival of ordered materials will be posted. Receiving papers are to be signed and left in the designated box in the stockroom. You may make copies of the packing list, but all originals must remain here. If materials are received other than through the stockroom, you must notify Stavros Papadovasilakis in the stockroom. Items to be returned to a vendor for replacement or repair are sent out through the stockroom. Our goal is to process all deliveries in a timely manner, and we ask that you allow us this time to process the deliveries as they arrive.
Personnel

Contact Person
Ilias Paraschopoulos
+30-2810-391182
+30-2810-391101
This email address is being protected from spambots. You need JavaScript enabled to view it.
A074

Personnel
Maria Tzatzadaki
+30-2810-391183
+30-2810-391101
This email address is being protected from spambots. You need JavaScript enabled to view it.
A074