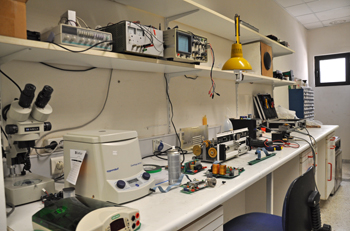 Description
The Electronics Workshop supports a vast array of research instrumentation within the IMBB. They also offer a repair and maintenance service for most electronic and electromechanical equipment and provide consultation in design and construction of electronic instruments. Frans Brandt has extensive expertise in troubleshooting complex problems as well as designing new equipment to meet specialized requirements.
Services
• Equipment Repair.
• Equipment Maintenance - in house.
• Organisation of External Service Contracts - for equipment requiring specialization outside the scope of the workshop.
• Routine Portable Appliance Safety Testing (P.A.T.) - for all new & existing equipment.
• Stock of Electronic Components & Consumables - in house source of batteries, bulbs, cables, connectors etc.
• Consultancy & Advice - on a range of electronic issues, including design, interfacing , sourcing & implementation of systems for use in Teaching & Research.
Personnel

Contact Person
Frans Brandt
+30-2810-391189
+30-2810-391101
This email address is being protected from spambots. You need JavaScript enabled to view it.
A022