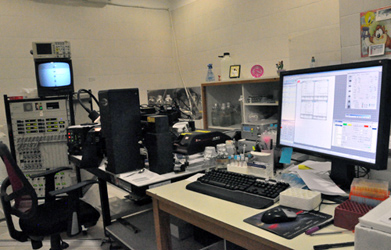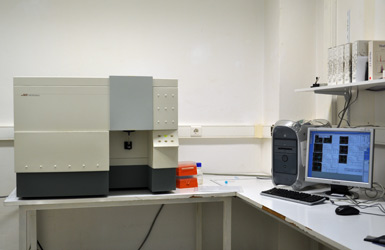 Description
The IMBB Cell - Sorting Facility supports the scientific community of Crete for operator-based cell sorting analysis in Basic and Developmental Research. Available technology includes multiparameter high speed sorting and multiparameter analysis.
Sorting analysis provides the unique ability to rapidly separate various live cell populations for further experimental procedures . Identification and isolation of heterogeneous samples of cells, chromosomes, yeast, bacteria or macromolecular particles can be accomplished.
Equipment
The facility is equipped with one research grade cell-sorting unit consisting of the DakoCytomation (now Beckman-coulter) MoFloT High-Performance Cell Sorter with the SummitT software program (http://www.coulterflow.com/bciflow/instrumentsot.php).
The MoFlo sorter utilizes three Lasers, UV- 355nm , Blue- 488nm and Red Diode- 643nm, which can measure up to 9 cellular markers according to Fig.1. Several common fluorochromes (FITC, R-PE, PerCp-Cy5.5, APC, APC-Cy5.5) and fluorescent protein GFP have been used successfully. The unique configuration of Lasers allows to simultaneously separating 4 different populations with greater than 99% purity and high recovery. Selected populations can be sorted into test tubes or deposit directly into 96-well plates, at speeds approaching 70,000 events per second.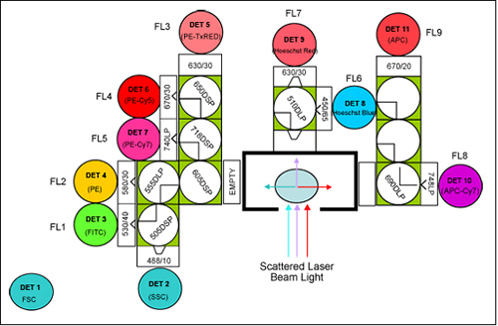 MOFLO optical layout
Services
• The personnel are dedicated to offer expert assistance to all internal and collaborating researchers. Services performed in the facility include the running of high quality cell sorting and data analysis on multi-color immunophenotyping and fluorescent proteins (GFP,DsRed etc) applications. Sterile sorts are available allowing subsequent culturing of sorted cells. There is also the capability of developing experimental sort protocols up on request.
• The facility is located at the basement of Building 1 (IMBB).
• Telephone number: +30 2810 391821
• Fax number: +30 2810 391101
Personnel

Contact Person
Zaharenia Vlata
+30 2810 391145
This email address is being protected from spambots. You need JavaScript enabled to view it.
A108

Takis Makatounakis
+30 2810 391176
This email address is being protected from spambots. You need JavaScript enabled to view it.
A209

Niki Gounalaki
+30 2810 391172
This email address is being protected from spambots. You need JavaScript enabled to view it.
A240